07-13-2021, 04:45 PM (This post was last modified: 07-15-2021, 01:16 AM by CrystalBlazier.)
I reached out to King, the developers of Crash Bandicooot: On The Run!, to ask them fan questions about their previous limited time
Spyro
event, Battle of the Dragons. The Game Designer & Creative Lead of
Crash Bandicoot: On the Run
, Stephen Jarret, was nice enough to answer my questions and I have listed them below.

1. Was a Spyro-based event for

Crash Bandicoot: On the Run!

planned from the start?
SJ: When we were planning out the seasons, we knew right from the start that we wanted to include a season around Spyro, Dark Spyro and Gnasty Gnorc. As well as being huge Crash fans, the
Crash Bandicoot: On the Run
! team at King are massive
Spyro
fans too. For me personally I'm a big fan of
Spyro: Year of the Dragon
and loved our friends at Toys For Bob's work on the
Spyro Reignited Trilogy
.
2. What made you want to bring Gnasty Gnorc (the main villain in the first

Spyro

game) and Dark Spyro (Spyro's dark alter ego from

The Legend of Spyro

reboot and later Skylanders) into

Crash Bandicoot: On the Run

?
SJ: The Spyro vs. Dark Spyro battle in Skylanders Academy is so iconic, it was something we desperately wanted to replicate in some way with this season. The team were also keen to incorporate a battle with a dragon and it would have been odd to have Crash fight Spyro, so Dark Spyro ended up being the perfect fit. As for Gnasty Gorc, he's just amazing! I love it when we can create interesting battles with great characters. Gnasty Gnorc has a fun personality and our animation team did an incredible job showing his strength and personality in his intro scenes and attacks.
3. Were other

Spyro

villains considered for this event as season bosses, like Ripto, the Sorceress or Malefor?
SJ: We did consider Malefor initially, but ended up going with Dark Spyro instead. Originally, we only had time to create one seasonal boss battle, but the team were so excited to have the Spyro franchise visit Crash Bandicoot: On the Run! that we managed to squeeze in Gnasty Gnorc too. Something we were super excited about bringing to life, as well as being proud to offer our players some variety in the boss sequences.
4.

Crash

villains, N. Gin and Koala Kong, are part of Season 3's event. Are they in cahoots with Dark Spyro and Gnasty Gnorc, or are they trying to take over the multiverse as well?
SJ: A great question! When we plan out the seasons, we like to link them together, so they shape a wider narrative and story. It was N-Tropy at the end of Season 2 that let in Dark Spyro and Gnasty Gnorc and she also let in N.Gin and Kola Kong too. After Dark Spyro leaves at the end of the season, N-Gin, Kola Kong and Gnasty Gnorc will stick around.
5. Was Dark Spyro's inclusion as a villain based on his recent appearance in the Netflix television series

Skylanders Academy

?
SJ: Yes, it definitely played a part in the decision. The battle between Spyro and Dark Spyro in
Sklyanders
is so epic and I think Dark Spyro is a really interesting character, one that we were keen to explore further in Season 3.
6. Did you research

The Legend of Spyro

trilogy and

Skylanders

franchise when bringing Dark Spyro into the Crash multiverse lore? Fans have noticed a couple of easter eggs from the two series, like the Dark Aether symbol banners spotted around the season levels, Dark Spyro's image banners resembling his Skylanders design, and his dark fire and lightning attacks based on his Skylanders counterpart.
SJ: When we develop a new season, our visual development artists spend a lot of time researching everything they can about the characters and the worlds they inhabit. The Dark Aether symbol was a nod to
The Legend of Spyro: The Eternal Night
and we were really excited when fans called it out! Every season contains easter eggs and fans consistently identifying them is a testament to their love of both the game and wider franchises. They really are the best fans in the world.
7. What was your favourite part when bringing Spyro, Dark Spyro, and Gnasty Gnorc into Crash Bandicoot: On the Run! for the "Battle of the Dragons"?
SJ: Every season brings new characters, new locations and new boss battles. We start with a teammeeting on what we want to include and share ideas. We develop the boss gameplay design, visual development of the characters and world are created, then the modelling of the characters is completed. Once this is finalised the development work on the attacks starts, along with level design, rigging, animation of the characters, new 3D dressing for the world, new music for the bosses and VFX for the attacks all starts to fall into place. So much goes into creating these characters and battles, and when it all comes together and is released into the wild for players to enjoy and show their appreciation for it…that is my favorite part.
8. Since it was previously stated that

Crash Bandicoot: On the Run!

takes place at the centre of the multiverse where all the Crash Bandicoot games happened, does the same apply to all the

Spyro

games too?
SJ: A nice short answer, yes.
9. Was Spyro planned to be a playable character for

Crash Bandicoot: On the Run

? Or is there still the possibility for it?
SJ: There is always a possibility….
10. What's your favorite

Spyro

season bosses: Dark Spyro, Gnasty Gnorc, or both?
SJ: I love them both. They both have unique attacks to match their personalities and are different to any other boss in the game. I hope you have as much fun battling them as we had creating them!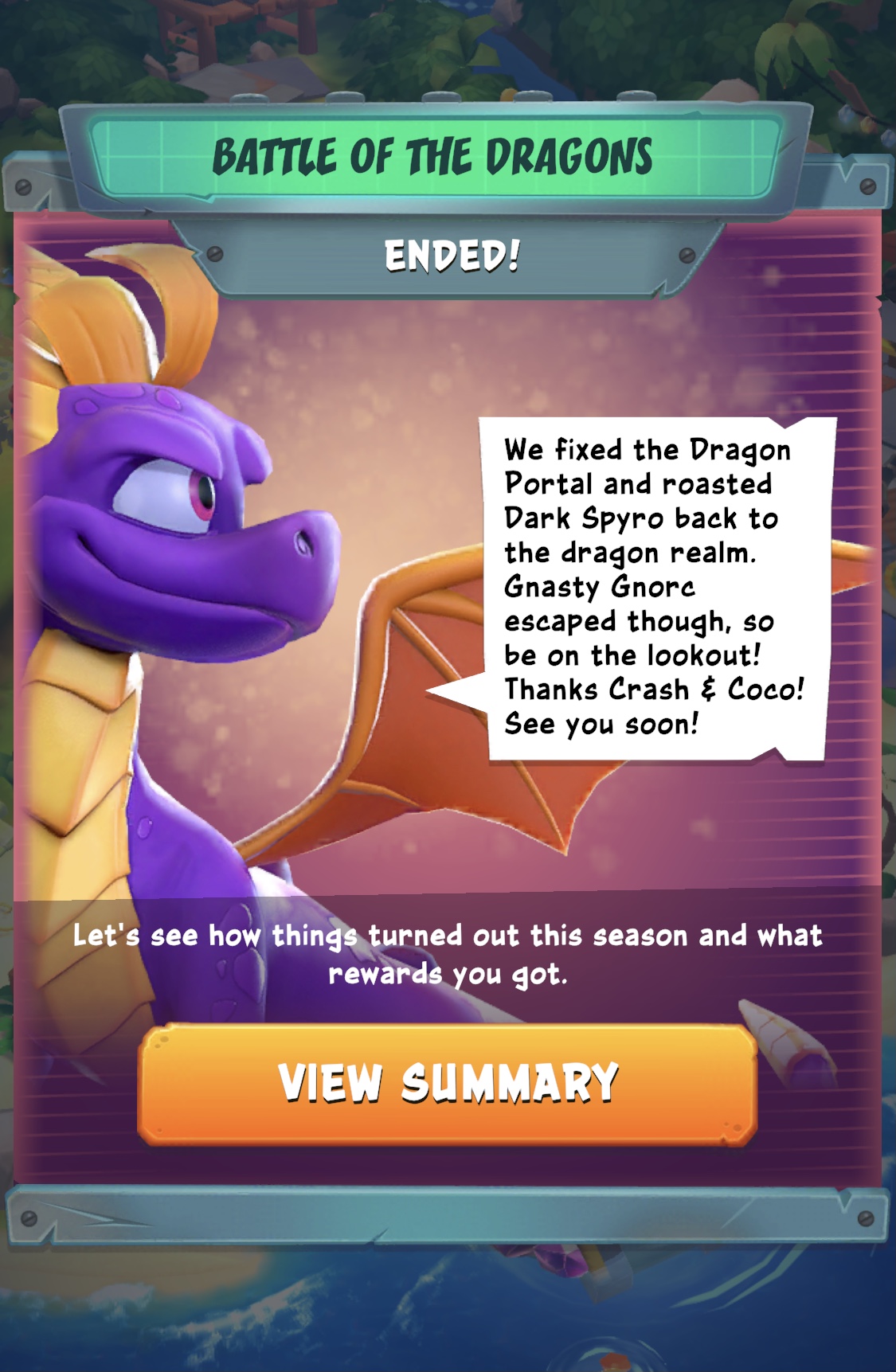 Video version
"Looks like I got some things to do!"