03-13-2022, 03:53 AM (This post was last modified: 03-13-2022, 06:04 AM by SarahSpyborg259.)
Is anyone else aware there are other young dragons aside from Flame, Ember, Cynder, and the Spyro 3 baby dragons.
There's several in Attack of the Rhynocs and one in Shadow Legacy.
Chip, Dolly, Flint, Nelson, and Petal (all the same colour).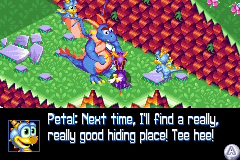 And Zinc
I wouldn't mind seeing those in the Reignited artstyle.
Full-on Spy Kids nerd!

Occasional Spyro nerd.

Twitter: @sarahspyborg259
DeviantArt: SarahSpyborg259
Discord: SarahSpyborg259#6629
Wikia: SarahSpyborg259